Tiny Tattoo (Less than 2"): $85+
Small Tattoo (2"-4"):            $145+
Medium Tattoo (4"-6"):       $185+
Large Tattoo (6" up) Consultation For Pricing
Above prices are not final. Final pricing is based on the complexity of the design. Our artist will confirm the pricing after reviewing the design.
PARAMEDICAL COSMETIC AREOLA
Master Artist (Experience and Expert): $750 (Both for $1000)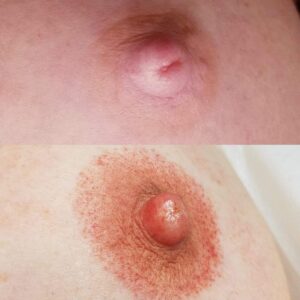 SCALP PIGMENTATION
Scalp Micropigmentation is a solution that replicates the appearance of thicker, fuller hair. This innovative scalp treatment utilizes micro-needles to create thousands of tiny impressions, giving the illusion of hair, similar to the hair follicles appearance. This affordable semi-permanent solution can enhance an existing hair restoration or provide an alternative to individuals who want a non-surgical treatment suitable for all types of hair loss.
Consultation is required for pricing.